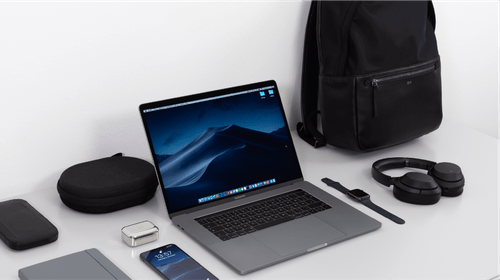 The laptop bag is one of the most essential items to have nowadays. This accessory has practical and visual benefits. After purchasing an expensive laptop, you shouldn't save money to protect it and promote its durability. The quality laptop bag must be sturdy, long-lasting, and protective. Laptop bags have a variety of designs and types, and the selection should be based on your purpose and needs. The bag serves daily and everywhere, therefore, some important features should be taken into consideration.
How to make the right selection of a laptop bag? Here are some factors to consider before your purchase.
Consider The Style
Your laptop bag is your faithful friend. You will take it everywhere you go. It should be aesthetic or stylish, to take with you to the office, and practical, to take with you on vacations. This accessory gives you a special look and distinguishes you from the common crowd. Depending on your personal preferences, you can choose techy, business, casual, classic, fashion, slick, or other styles. Remember, you'll be carrying your bag frequently, make sure you like the overall design and the way it looks on you.
Consider The Size
Before purchasing your laptop-bag, don't forget to measure your laptop to avoid unnecessary problems. The bag needs to fit your device, not to be super-large or small. Consider, you might also keep other items in that bag: extra space won't bother you. It is essential, your bag has additional pockets or scratch-resistant compartments, as you might keep some cords, USBs, or other devices besides your laptop. They might scratch your device if not be separated in different pockets or be damaged due to the laptop weight. In any case, if your bag lacks pockets, the solution is a laptop sleeve. You can place your computer into a sleeve and then in the backpack.
Quality and Durability
Fabric is the most important aspect that you need to worry about. Everyday usage should not make the bag worn out in a short period. The material is the key component that protects your device from every accident. It should be lightweight and durable.
Most of the laptop backpacks are out of nylon, polyester, canvas, leather, tarpaulin, or other types of materials. We suggest you finding breathable, multi-layer, anti-permeable, and anti-sweat materials for more comfy and longer usage. If the laptop bag is made of waterproof material, it provides extra protection in all weather conditions. Plastic casings are also available for hardtop or extra coverage lovers.
The second and important factor is quality zips. They keep the device safely locked in the bag. Cheap or broken zips can make the entire backpack unusable.
Preferably, laptop bags must have extra padding inside, it protects the device and your spine from damages. Some laptops are pretty heavy, and padding absence might cause serious damages to your shoulders when you are carrying them.
Adjustable straps will help to customize the bag design to your needs and make it more ergonomic for every occasion usage, no matter if you are in a meeting or the bus.
Consider Warranty
Products with warranties are always the best options. Who knows what could happen after buying? If it gets damaged under the factors not dependent upon you, you still have a chance to replace it with the new one. Note, that you cannot give the product back if you have used it for several years and it became unusable.
Anti-theft lock
The laptop backpack keeps your device secure from accidents, but keeping it secure from theft is also important. That function is provided by anti-theft locks. They prevent your device from being stolen in crowded places.
Flight Approved and Travel-friendly
Life without a laptop seems to be impossible. You take it with you wherever you go. What if you are traveling with only a hand-bag-allowed ticket, but your laptop bag size is too big for taking with you on the plane? To avoid such unpleasant circumstances, consider this beforehand.
Another important issue connected with traveling is easy carrying. High-quality laptop backpacks have a luggage strap in the back. It allows you to fix your bag on your luggage, free your hands, and travel easily. Some bags have such a strap in the front, which can be used for attaching small bags to it if you need extra space.
USB Charging Backpack
Nowadays backpacks don't serve solely as an accessory to carry your device, but they obtain wider functions. The most recent laptop backpacks are produced with USB charging ports to ease your work. You don't have to keep any charger or power bank in your hands. Put your device inside your backpack where it will be charged.
Quick Access Pockets
Preferably your laptop bag needs to have quick access pockets to reach easily. Sometimes we just don't have enough time or nerves to open our bag for several minutes and take an urgently needed item from there. It doesn't mean you can keep expensive things there, because that pocket is easily reachable for the thefts as well.
Multifunctional Organization
Who would like to carry a bag with a messy inside? When everything lay on one another, it is quite hard to distinguish or find necessary items easily. Some of the bags offer separate small pockets for your pens, cards, wallet, docs, phone, or other essential things. The inside arrangement is pleasant for the eyes and also helps not to waste time searching for anything.
Bright Lining Inside
Regardless of the arrangement, your job will be easier if your bag has a bright lining inside. It "turns on the lights" when you open the zipper and makes it super easy to find whatever you are looking for. Besides, bright colors will positively change your mood.
Ultra-Light and Comfortable
Last but not least, your laptop backpack needs to be light itself. Otherwise, the heavy device or other items inside will make it hard to carry. This feature is quite important because comfortable carrying is hugely dependent upon weight.
Congratulations! Now you are a prof of choosing a backpack. You know all the necessary information to buy a perfect bag for you. Share this information with your friends. I suspect they don't know as much as you do know!